Television Review | 'Storage Wars'
Storage Wars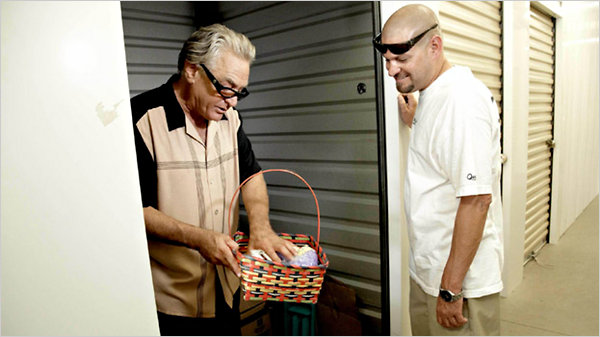 AETV
The Gold Mines Behind Padlocks
Published: November 30, 2010
Thousands of people are going to quit their jobs on Thursday morning because of a zippy new reality series called "Storage Wars," which has its premiere on Wednesday night on A&E. Why go to work when you can be a full-time storage-locker buyer?
More About This Series
Blog

The latest on the arts, coverage of live events, critical reviews, multimedia extravaganzas and much more. Join the discussion.
The series follows an auctioneer named Dan Dotson whose job is to auction off the contents of self-storage lockers when their owners don't pay their rental fees. Apparently there's a universe of people who make hefty profits by buying these lots blind, discovering valuable stuff in them and reselling it. Easy money.
Television already has assorted variations on this theme, shows about people who hunt for antiques in old barns and such. But "Storage Wars" is an especially entertaining addition to the genre. Who doesn't love the sound of an auctioneer's voice? Beyond that, the four buyers on whom the show focuses are well chosen, and the "reveals" — the moments when the buyers see what they've acquired and get estimates of its value — are great fun.
The bidding is fueled by a combination of whims and educated guesses. The buyers aren't allowed to inspect the contents of the locker closely enough to know for sure what they're bidding on; Mr. Dotson lets them look in only from the outside for a few minutes. What's in an old duffel bag? Might be nothing, might be a stash of valuable baseball cards. Gotta buy it to find out.
Each buyer has a clear personality: Dave, the confident, well-financed one; Darrell, brash and determined; Barry, a bit more laid-back (until Episode 3, when he turns up with some secret weapons he hopes will give him an edge); Jarrod, new to the game and not very good at it. But the most entertaining character may be Brandi, Jarrod's wife, who seems ready to smack him upside the head every time he comes home with a pile of junk.
Jarrod, though, is the exception; the other guys seem to have no trouble paying a few hundred bucks for a locker and finding a rare car or similar gold mine under a tarp inside. It looks so easy that once all those viewers quit their jobs and enter the bidding fray, you wonder if there will be enough delinquent lockers to go around. Maybe a law change is in order, so that storage lockers can be auctioned off even if the renters are current on their payments. If we're going to transition to a something-for-nothing economy, some people are just going to have to make sacrifices.
Storage Wars
A&E, Wednesday nights at 10, Eastern and Pacific times; 9, Central time.
Produced for A&E Network by OriginalProductions. Thom Beers and Philip D.Segal, executive producers; Jeff Conroy and Dolph Scott, co-executive producers;Robert Sharenow and Elaine Frontain Bryant, executive producers for A&E.
Get Free E-mail Alerts on These Topics
Average Reader Rating





3 rating, 2 votes